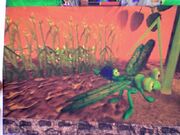 It is seen in Level 4 and Level 5 in Bugdom. It can help Rollie fly over the gate. It can shoot fireballs to enemies.
In level 5, it can get Hive on fire by shooting fireballs. In level 4 you are aloud to rome around freely but don't fly too high or you will be eaten by the bat which literary hangs around that area. It is also fun to peg the ants that stand in your way in this level. Just fly low and open fire on the ants but watch out. There are some boulder or rock ants which will try to peg you off of the dragonfly. The dragonfly will help you get over the fences in the last part of the level.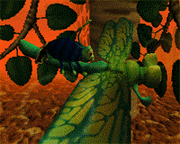 Ad blocker interference detected!
Wikia is a free-to-use site that makes money from advertising. We have a modified experience for viewers using ad blockers

Wikia is not accessible if you've made further modifications. Remove the custom ad blocker rule(s) and the page will load as expected.